FULL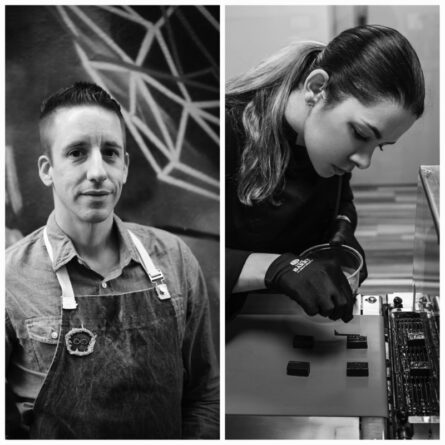 DATE
January 16 - 19 2024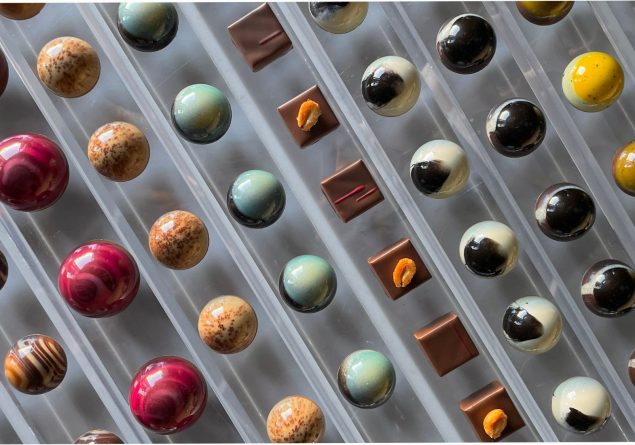 COURSE
Running a Chocolate Production by Melissa Coppel and Ramon Perez
Setting out to create any business is nerve-wracking. But starting a wholesale chocolate business, given all its variables, can be especially intimidating! Chef Melissa Coppel and Ramon Perez (owner of Puur Chocolat) have experienced firsthand the challenges and victories of owning a wholesale chocolate business. In this Hands-On class, they share their struggles, secrets, tips, and lessons learned.

The class focuses on you and your business, as well as your expectations and aspirations for it. Working directly with Chef Melissa and Chef Ramon will give you all the valuable aspects of chocolate production: productivity, costs, packaging, branding, storage, and shipping. No class on chocolate is complete without a variety of enrobed and molded bonbons, so Chefs Perez and Coppel will share their go-to recipes for bonbons that are easy to decorate and irresistibly delicious. Whether you're running an established chocolate business or just starting, this class is for you!
PROGRAM
Ramon Perez:
Hazelnut Praliné
Corn Tortilla Ganache  | Lime | Corn Almond Praliné
Ketjap Manis  |  Lychee Ganache
Okinawa | Coffee
Wasabi Ganache | Matcha Tea     .
Sake Kasu
Eucalyptus Ganache | Lemon Pâte de Fruit
Melissa Coppel
Beer Caramel | Pretzel Praliné
Vanilla Custard Ganache | Brioche Toast
Passion Jelly | Hazelnut Ganache | Hazelnut Praliné
Lychee Rose Tea Ganache
Chestnut and Rum Marzipan
Porto Jam | Fig Leaf Ganache
Millefeuille: Feuilletine Duja | Caramel Marshmallow | Soft Caramel
What is included in the recipe?

Access to the recipe or class videos LifeTime
Recipe book in PDF format including detailed methods, percentages, and the shelf life of each product.

 

Tools and equipment list with hyperlinks to the websites where we bought all our utensils.

 

Digital photo of the product/products made during class.
Tested recipes and formulations.
Full email and forum support.
Recommendations and rules:
All other digital files and videos will be available lifetime: Video recipe, recipe book, tools and equipment list, photos and others contained in the course.
Our On-Demand Recipe Videos are meant to be Demo style, we do not expect students to cook along with us. We feel this is the best way to get the most out of our experience together.
⟶ Practical Info