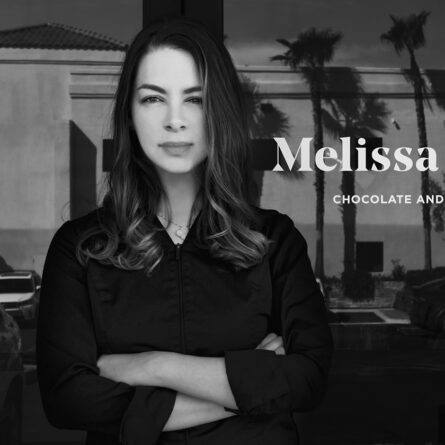 CHEFS
Melissa Coppel
Melissa Coppel's enter the world of pastry when she left her home country Colombia in her early 20's to enroll at the French Pastry School in Chicago, where she graduated from L' Art de la Patisserie Program. This whetted her appetite for the art of high level pastry. Through sheer determination, Coppel eventually landed in the pastry kitchen of the prestigious L'Atelier de Joël Robuchon in Las vegas, where she honed her pastry skills and soaked up knowledge like a thirsty sponge. She took continuing education classes in any free time she had. Then she took a position in the chocolate room of Caesar's Palace Casino, where she spent hours working with chocolate. This was the spark that ignited her love affair with chocolate, and launched her very specialized career. Today, she runs the Melissa Coppel Chocolate and Pastry school in Las Vegas.

Melissa Coppel is a Cacao Barry Ambassador. 
She was named "Chocolatier of the Year" in 2013, and one of the "Top Ten Chocolatiers in North America" in 2016.
Follow: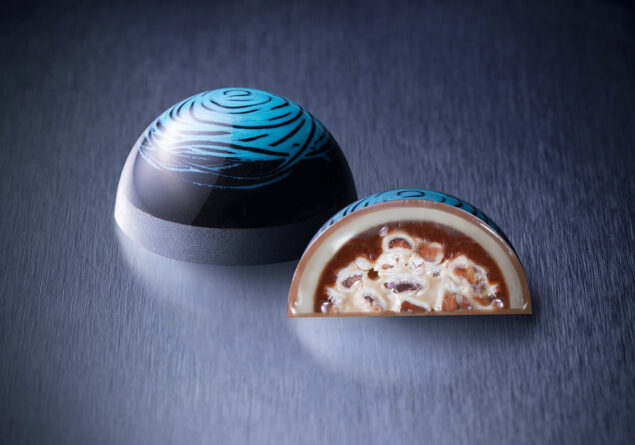 COURSE
Taller De Chocolatería
Un programa de Chocolatería completo dictado 100% online y en vivo, donde podrás ver a la Chef Melissa trabajando en tiempo real e interactuar con ella, al mismo tiempo que podrás hacer todas las preguntas necesarias para aclarar todas tus dudas.

El programa consta de tres sesiones, cada una con una duración aproximada de 3 a 4 horas. Cada bombón tendrá un diseño único. La primera parada será en todas las técnicas de decoración con manteca de cacao, en donde se utilizaran pinceles, esponjas, cinta y por supuesto la pistola. Y acerca de los rellenos? Se cubrirán todas las familias base:

pralinés, gianduja, caramelos, marzipán, compotas y diferentes crujientes. También ganaches con diferentes bases como crema, puré de frutas y aceites. Un total de diez productos diferentes se realizarán durante las tres sesiones: ocho bombones de molde y dos "dessert bars"
PROGRAM
Bombones de molde:
Compota de Cereza y Pimienta negra | Ganache de Espresso | Chocolate Negro
Ganache de Whisky | Praliné de Nueces de Pecán | Chocolate Negro
Ganache de Cardamomo & Rosa | Mazapán de Vainilla | Chocolate Blanco
Ganache de Durazno | Duja de Nueces de Cajú Saladas | Chocolate Blanco Caramelizado
Caramelo de Miso y Banano | Gianduja | Soba Cha | Chocolate de Leche   
Ganache de Parmesano y Pimienta Negra | Chocolate Blanco Caramelizado
Ganache de Fresa | Praline de Sésamo Negro | Chocolate Blanco y Negro
Ganache de Almendras | Crujiente de Croissant | Chocolate de Leche
Dessert Bars:
Compota de Cereza | Ganache de Pistacho y Aceite de Oliva | Crumble de Pistacho |
Chocolate de Leche
Ganache de Coco, Lima y Ron | Crujiente de Coco y Nuez de Macadamia | Chocolate Blanco
Fechas:
Lunes 20 de Abril
Martes 21 de Abril
Miércoles 22 de Abril
Horario:
Las Vegas  2:00 pm (Pacific Time Zone)
Madrid 10:00 pm
Buenos Aires 6:00pm
Bogotá 4:00pm
Santiago 6:00 pm
São Paulo 6:00 pm
C. de México 3:00 pm
Qué sucede después de registrarme?
Una vez te has registrado, recibirás un correo de confirmación con todas las indicaciones necesarias para poder acceder al curso.
También contarás con una persona hispano parlante de nuestro equipo que resolverá cualquier duda que tengas referente a los requisitos para que puedas conectarte y estar listo para las clases.
Necesitarás descargar la aplicación ya que será la plataforma que usaremos durante las clases.
Si por algún motivo no logras estar presente en las clases en vivo, te enviaremos la grabación de la misma para que puedas verla en streaming antes de la siguiente clase.
Qué incluye la matrícula?
Un libro en versión PDF con todas las recetas y teorías se cubrirán durante el curso.
Un diploma que certifica que has terminado exitosamente el curso.
⟶ Practical Info