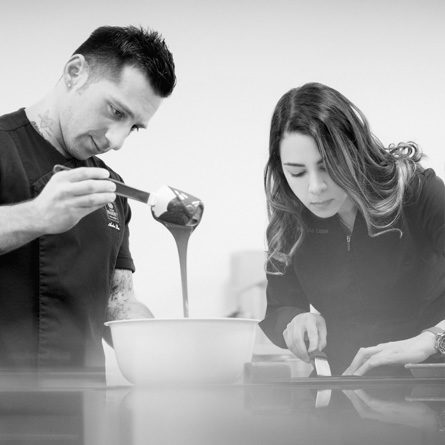 DATE
October 22 - 23 2020
COURSE TYPE
Chocolates and Confections
CHEFS
Melissa Coppel
Melissa Coppel's enter the world of pastry when she left her home country Colombia in her early 20's to enroll at the French Pastry School in Chicago, where she graduated from L' Art de la Patisserie Program. This whetted her appetite for the art of high level pastry. Through sheer determination, Coppel eventually landed in the pastry kitchen of the prestigious L'Atelier de Joël Robuchon in Las vegas, where she honed her pastry skills and soaked up knowledge like a thirsty sponge. She took continuing education classes in any free time she had. Then she took a position in the chocolate room of Caesar's Palace Casino, where she spent hours working with chocolate. This was the spark that ignited her love affair with chocolate, and launched her very specialized career. Today, she runs the Melissa Coppel Chocolate and Pastry school in Las Vegas.

Melissa Coppel is a Cacao Barry Ambassador. 
She was named "Chocolatier of the Year" in 2013, and one of the "Top Ten Chocolatiers in North America" in 2016.
Follow:
Andres Lara
Andres Lara had traveled the world working and exploring different cultures; this makes his work approach so fresh and unique.
He is now the Executive Pastry Chef at Melissa Coppel's Chocolate and Pastry School in Las Vegas, but his work experience ranges from incredible places like El Bulli, Noma, the Cacao Barry Chocolate Academies in Montreal and Tokyo and The Park Hyatt Hotel in Chicago.
Some of his most notable mentors include Albert Adrià, Paco Torreblanca, Ramon Morato, Jacquy Pfeiffer, Sebastien Canonne - just to name a few -
Follow:
Instagram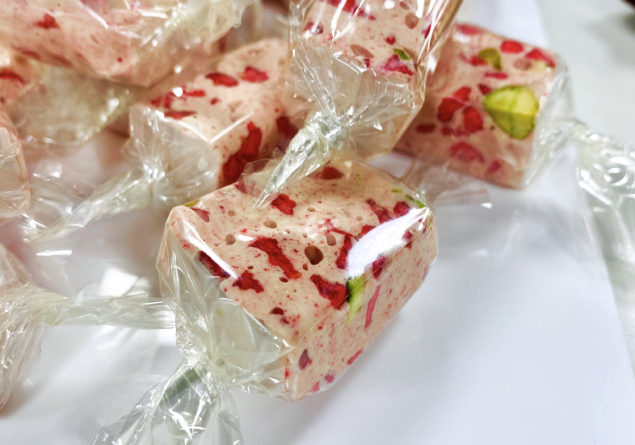 COURSE
Vegan Chocolates, Confections and Glossy Bonbons with Natural Products
Dive into the incredible world of Vegan Chocolates and Confections: Chef Melissa will be sharing all her tricks to achieve beautiful glossy bonbons -only using natural colors- as well as her best Vegan recipe fillings including ganaches, caramel, praliné and crunchy elements. She will be sharing as well how to create your own Vegan flavored couvertures, like the Piña Colada and the Peanut Butter Chocolate to produce unique "loaded bars". Then Chef Andres will focus on teaching you everything about Vegan Confections and the science behind each ingredient, how to re-formulate your recipes by replacing dairy and eggs with the right ingredients to still produce those nostalgic confections we all love.
PROGRAM
Vegan / Dairy Free:
Vanilla Caramel and Bitter Chocolate Ganache Bonbon | Vegan
Raspberry Ganache and Sesame Crunch Bonbon | Vegan
Hazelnut Ganache and Hazelnut Praliné Bonbon | Vegan
Piña Colada Chocolate with Crispy Pineapple and Toasted Coconut Bar | Vegan
PB & J: Peanut Butter Bean to Bar Chocolate with Crispy Strawberries and Crunchy Peanuts Bar | Vegan
"Nutella" Spread | Vegan
Turkish Delight with Pistachios, Apricots and Orange Blossom | Vegan
Yuzu Marshmallow | Vegan
Strawberry Nougat with Toasted Hazelnuts and Pumpkin Seeds | Eggless
Dates, Cashews, Almonds and Coconut Energy Bars | Vegan
Chocolate Sable Cookie with Hazelnut Cream and Apricot Confit | Vegan
Schedule:
8:00 am to 1:00 pm Las Vegas (pacific time zone / USA)
What is included in the tuition fee?
A recipe book in PDF with all the recipes, complete methods and sketches.
A tools and equipment list with hyperlinks to the websites where we bought all our utensils.
A digital Diploma that certifies you successfully completed the course.
Digital pictures of all the products made during the Class.
Recommendations and rules:
Our Classes are Online Live, this means you will be able interact, watch the Chef work in real time and ask all the questions you have, all which will be answer immediately.
Our classes are meant to be Demo style, we do not expect students to cook along us, we feel this is the best way to get the most out of our experience together.
Only registered students using the email address they provided during registration will be allow to join the Class.