FULL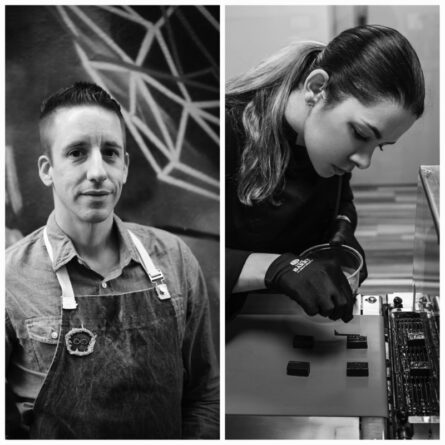 DATE
October 18 - 21 2021
COURSE TYPE
Chocolates and Confections
CHEFS
Melissa Coppel
Melissa Coppel entered the world of Pastry when she left her home country Colombia in her early 20's to enroll at the French Pastry School in Chicago, where she graduated from L' Art de la Patisserie Program. This whetted her appetite for the art of high level pastry. Through sheer determination, Coppel eventually landed in the pastry kitchen of the prestigious L'Atelier de Joël Robuchon in Las Vegas, where she honed her pastry skills. Then she took a position in the chocolate room of Caesars Palace Casino and right after at The Bellagio Casino, where she spent hours working with chocolate. This was the spark that ignited her love affair with chocolate, and launched her very specialized career. Today, she travels the world teaching her art, while she runs the Melissa Coppel Chocolate and Pastry School in Las Vegas.

Melissa Coppel is a Cacao Barry Ambassador. 
She was named "Chocolatier of the Year" in 2013, and one of the "Top Ten Chocolatiers in North America" in 2016.
Follow:
Ramon Perez
Ramon Perez-Chef/Owner of Puur Chocolat in Sacramento, CA started his career in the kitchen of Auberge du Soleil at 12 years old. Born in the Netherlands to Chef-Restaurateur parents, Ramon returned home to work at the Three Star Michelin restaurants; De Librije and Parkheuvel.
Returning to California, Ramon landed in Los Angeles as the Executive Pastry Chef for acclaimed Chef David Myers. Here, Ramon headed up the pastry programs for the David Myers Group (Sona, Boule, Comme Ca, Pizzeria Ortica) A Position he held for 9 years as a key member in the development of new openings across the globe. While with David Myers Group; Ramon was a James Beard semifinalist for Outstanding Pastry Chef, and winner of the Star Chefs International Pastry Competition.
Launching in 2013, Puur combines the best in ingredients grown in the Sacramento region along with modern technique, creating a unique and exciting chocolate experience. Recognized as one of the Top 10 Chocolatiers in North America By Dessert Professional Magazine, and a member of the prestigious Cacao Barry Ambassadors Club.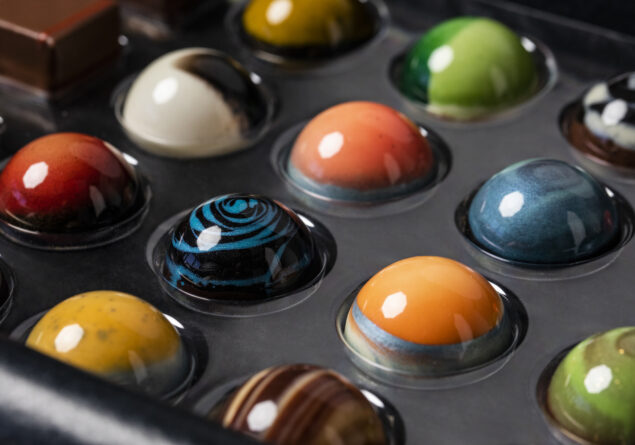 COURSE
Running a Chocolate Production
Ramon and Melissa are the perfect pair to teach you everything about running a Chocolate business: They both have experience owning retail, and wholesale chocolate shops. And they have both a genuine interest in sharing their struggle and stories. Their secrets, tips, and DOS and DON'TS -which they have learned the hard way, over the years-

Together, they design this Class, perfect for all those who struggle with their daily operation and are looking for answers to their problems. As well as for those who would like to open a Chocolate shop one day and do not where to start. 

They carefully selected a Class program that will include a selection of both, molded and enrobed bonbons. With flavors are unique, but everyone will love. Decoration that will be beautiful, colorful, but will not take more than two steps.

They will also cover important topics like productivity, cost, packaging, branding, storage, and shipping throughout the Class

Some highlights:

• Colorful cacao butter decorations and spraying techniques that are production-friendly.

• Unique fillings, simple to make, and everybody will love.

• Long shelf life ganaches and fillings (all between 4-8 weeks)

• Shipping, storage, cost, and branding tips.

Packaging advise: information and contact of three reliable manufacturing companies we have used, both in the USA and China.

*Right before Melissa opened her School, she co-owned a wholesale Chocolate company in Las Vegas. They supplied most casinos in town, and many other hotels across the Country, with thousands of bonbons per month. Ramon is the owner of Puur Chocolat: a retail and wholesale company in Sacramento, CA.

PROGRAM
Ramon Perez Class program
Moulded Bonbons:
Corn Tortilla Ganache | Lime | Crunchy Corn 
Coffee Ganache | Black Okinawa Sugar
Strawberry Lychee Ganache | Ketjap Manis 
Fresh Wasabi Zephyr Ganache | Matcha Tea
Enrobed Bonbons:
Eucalyptus Ganache | Lemon Pâte de Fruit | Enrobed in Dark Chocolate 
Sake Kasu Alunga Ganache | Enrobed in Milk Chocolate
Hazelnut Praline | Enrobed in Milk Chocolate
Evocao-Lime Ganache | Pistachio Praliné | Enrobed in Dark Chocolate 
Melissa Coppel Class program
Graham Cracker ganache | Vanilla Marshmallow
Chestnut Marzipan | Bitter Ganache
Oreo Praliné
Lemon Yogurt ganache | Pretzel Crunch
Cassis Juniper Ganache | Parmesan Crumble
Lychee Kaffir Ganache
Lime Caramel
Salted Caramel Ganache | Peanut Marzipan
Vegan Vanilla Bean Ganache 
Schedule:
8:00 am to 1:00 pm Las Vegas (pacific time zone / USA)
What is included in the tuition fee?
A recipe book in PDF with all the recipes, complete methods and sketches.
A tools and equipment list with hyperlinks to the websites where we bought all our utensils.
A digital Diploma that certifies you successfully completed the course.
Digital pictures of all the products made during the Class.
Recommendations and rules:
Our Classes are Online Live, this means you will be able to interact, watch the Chef work in real time and ask all the questions you have, all which will be answered immediately.
Our classes are meant to be Demo style, we do not expect students to cook along us, we feel this is the best way to get the most out of our experience together.
Only registered students using the email address they provided during registration will be allowed to join the Class.