FULL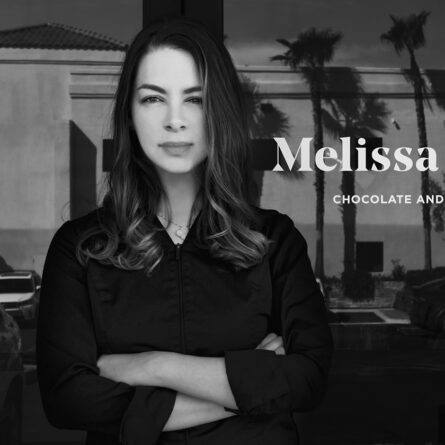 DATE
January 26 - 29 2021
COURSE TYPE
Chocolates and Confections
CHEFS
Melissa Coppel
Melissa Coppel's enter the world of pastry when she left her home country Colombia in her early 20's to enroll at the French Pastry School in Chicago, where she graduated from L' Art de la Patisserie Program. This whetted her appetite for the art of high level pastry. Through sheer determination, Coppel eventually landed in the pastry kitchen of the prestigious L'Atelier de Joël Robuchon in Las vegas, where she honed her pastry skills and soaked up knowledge like a thirsty sponge. She took continuing education classes in any free time she had. Then she took a position in the chocolate room of Caesar's Palace Casino, where she spent hours working with chocolate. This was the spark that ignited her love affair with chocolate, and launched her very specialized career. Today, she runs the Melissa Coppel Chocolate and Pastry school in Las Vegas.

Melissa Coppel is a Cacao Barry Ambassador. 
She was named "Chocolatier of the Year" in 2013, and one of the "Top Ten Chocolatiers in North America" in 2016.
Follow: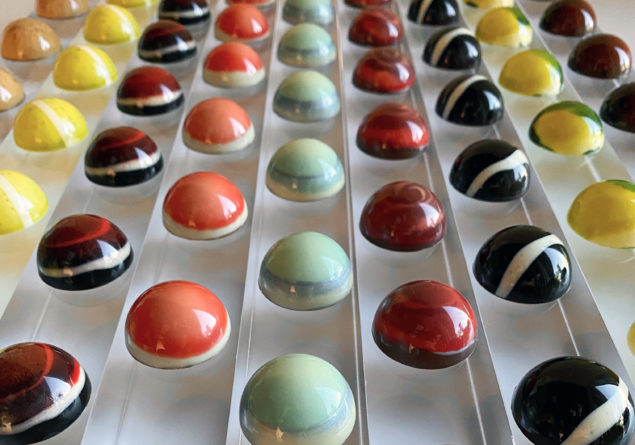 COURSE
Running a Chocolate Production
For those of you that did not know, right before I opened my School I was the co-owner of a wholesale Chocolate company in Las Vegas.

We supplied all the casinos in town and many other hotels across the Country. We are talking about hundreds of thousands of bonbons… From that experience I have created a Class with a completely different approach. A class for those that currently have a business, struggle with their daily operation and are looking for answers to their problems. Also for those who would like to open a Chocolate shop one day. A Class where we will talk about flavors that make sense and that everyone will love. Decoration that are colorful and beautiful but that will not take more than two steps to do. We will also cover important topics like: cost, packaging, branding, storage, shipping and productivity.

Some of the highlights:

• Colorful cacao butter decorations and spraying techniques that are "production friendly"
• Fillings that are unique, simple and everybody will love.
• Long shelf life ganaches and fillings (all around 6 weeks)
• Shipping, storage, cost and branding tips.
• Packaging advise: information and contact of reliable manufacturing companies in the USA and China
PROGRAM
Molded Bonbons:
Brown Butter and Zephyr 35% Ganache | Sourdough Crunch
Speculoos and Coffee Praliné
Mandarin, Alto el Sol 65% and Thyme Ganache
Olive Oil and Zephyr 34% Ganache | Lime Gel
Bitter Caramel | Salty Hazelnut and Soba Cha Gianduja
Pineapple Compote + Coffee |  Madirofolo 65% Ganache
Passion Fruit, Matcha and Zephyr 34% Ganache | Pistachio Marzipan
Strawberry, Lime and Sancho Pepper Ganache
Enrobed Bonbons:
Peanut Butter Ganache | Strawberry Pâte de Fruit  |  Enrobed in 65% Chocolate
Chewy Coffee Caramel | Sea Salt Caramel Ganache  |  Enrobed in 65% Chocolate
Enrobed Bars:
Turtle: Pecan Praliné, Caramelized Pecan Pieces and Caramel | Enrobed in 65% Chocolate
Schedule:
8:00 am to 1:00 pm Las Vegas (pacific time zone / USA)
What is included in the tuition fee?
A recipe book in PDF with all the recipes, complete methods and sketches.
A tools and equipment list with hyperlinks to the websites where we bought all our utensils.
A digital Diploma that certifies you successfully completed the course.
Digital pictures of all the products made during the Class.
Recommendations and rules:
Our Classes are Online Live, this means you will be able interact, watch the Chef work in real time and ask all the questions you have, all which will be answer immediately.
Our classes are meant to be Demo style, we do not expect students to cook along us, we feel this is the best way to get the most out of our experience together.
Only registered students using the email address they provided during registration will be allow to join the Class.