FULL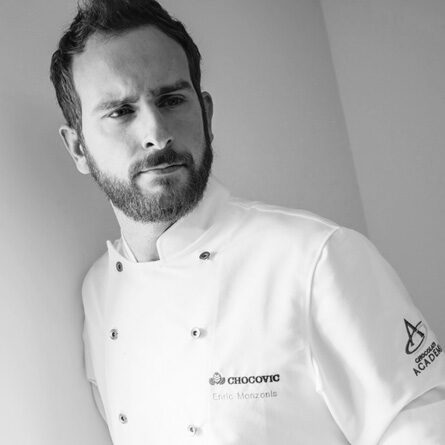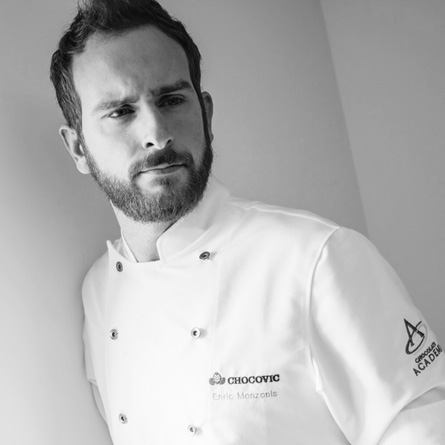 COURSE TYPE
Pastry (Cakes, Entremets, Tarts, Petit Gateaux)
CHEFS
Enric Monzonis
Soon after he graduated from the prestigious Hoffmann Pastry School in Barcelona, Enric found himself in the great kitchens of Yann Duytsche, Josep Maria Rodriguez, and the 2 Star Michelin Restaurant Abac.
In 2014 he became the Head Pastry Chef at Tickets, Albert Adria's famous Restaurant in Barcelona. He is now the Cacao Barry Chef at The Chocolate Academy in Spain, and also devotes his time to travel around the world spreading his knowledge and passion.
Follow: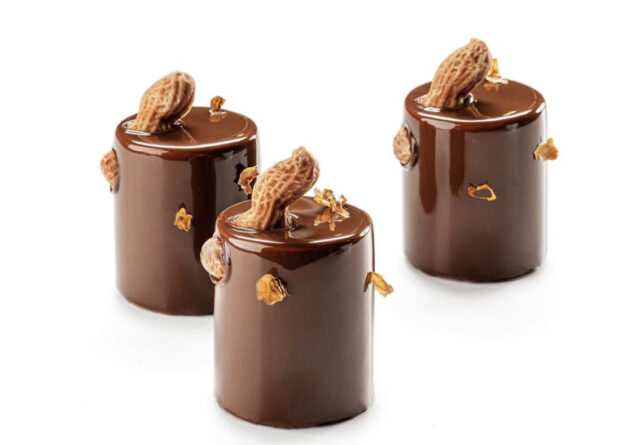 COURSE
Contemporary Spanish Pastry
New trends in pastry: beautiful, honest, flavor forward patisserie.

Chef Enric Monzonis believes simplicity is the new trend in Pastry. He propose a new line of Pastry that is simple, beautiful, clean and flavor forward, using less sugar and fat while respecting each ingredient.
A wide range of products including Cakes, tarts, petit gateaux will be made in this Online Class.

* This class will be translated from Spanish to English
PROGRAM
Selva Negra: Cocoa Genoise Biscuit | Fresh Cherry Compote with Kirsch | Light Cherry Cream | Sour Cream Mousse
Paris Brest: Choux | Praliné Mousseline Cream | Liquid Toffee | Hazelnut Praliné à l'ancienne | Hazelnut Nougatine
Baba: Baba soaked in Rum and Pineapple Syrup | Fresh Pineapple and Dill Compote | Juniper Cream
Opera: Cacao Jaconde | Coffee Whipped Cream |Almond and Lyo Coffee Crunch | Madagascar 65% Chocolate Ganache
Saint Honoré: Choux | Tahitian Vanilla and Caramel Cream | Caramelized Bananas | Sablé
Sacher: Earl Tea Ganache | Sacher Biscuit soaked in Vanilla, Cacao and Brandy | Passion and Apricot Compote
Apple Tatin: Caramelized Apples | Vanilla Pastry Cream | Calvados Chantilly | Caramelized Puff Pastry
Saint Marcos: Biscuit Cuillère | Chocolate Mousse | Vanilla Cream | Caramelized Yolk Cream
Carrot Cake: Steam Baked Carrot Cake | Mango and Passion Compote | Cream Cheese and Coconut "Frosting"
Schedule:
8:00 am to 1:00 pm Las Vegas (pacific time zone / USA)
What is included in the tuition fee?
A recipe book in PDF with all the recipes, complete methods and sketches.
A tools and equipment list with hyperlinks to the websites where we bought all our utensils.
A digital Diploma that certifies you successfully completed the course.
Digital pictures of all the products made during the Class.
Recommendations and rules:
Our Classes are Online Live, this means you will be able to interact, watch the Chef work in real time and ask all the questions you have, all which will be answered immediately.
Our classes are meant to be Demo style, we do not expect students to cook along us, we feel this is the best way to get the most out of our experience together.
Only registered students using the email address they provided during registration will be allowed to join the Class.