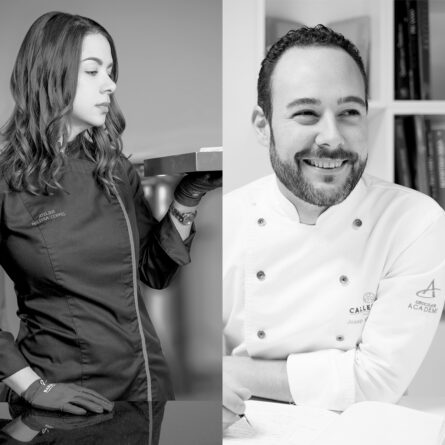 CHEFS
Josep Maria Ribé
In 2001 he joined the Staff at the Chocolate Academy in Vic, Spain, formerly known as Aula Chocovic.
In 2004 he won the Spanish Championship and the prize as "Best young pastry chef in Spain"
In 2005 he won the MMACE or Best Master Artisan Chocolatier in Spain, the most distinguish tittle a Pastry Chef in Spain can have.
He is the co-author of the Chocolate Book called "Four in One"
Since 2015 he has been the Director of the Chocolate Academy in Vic, and the Chef for the Callebaut Brand.
Always curious, and looking for constant evolution he created a group alongside other great professionals in Spain called "Colectivo 21 Brix" A group devoted to creativity, sharing and evolution.
Follow:
Melissa Coppel
Melissa Coppel's entered the world of pastry when she left her home country Colombia in her early 20's to enroll at the French Pastry School in Chicago, where she graduated from L' Art de la Patisserie Program. This whetted her appetite for the art of high level pastry. Through sheer determination, Coppel eventually landed in the pastry kitchen of the prestigious L'Atelier de Joël Robuchon in Las vegas, where she honed her pastry skills and soaked up knowledge like a thirsty sponge. She took continuing education classes in any free time she had. Then she took a position in the chocolate room of Caesars Palace Casino, where she spent hours working with chocolate. This was the spark that ignited her love affair with chocolate, and launched her very specialized career. Today, she runs the Melissa Coppel Chocolate and Pastry school in Las Vegas.

Melissa Coppel is a Cacao Barry Ambassador. 
She was named "Chocolatier of the Year" in 2013, and one of the "Top Ten Chocolatiers in North America" in 2016.
Follow:
Instagram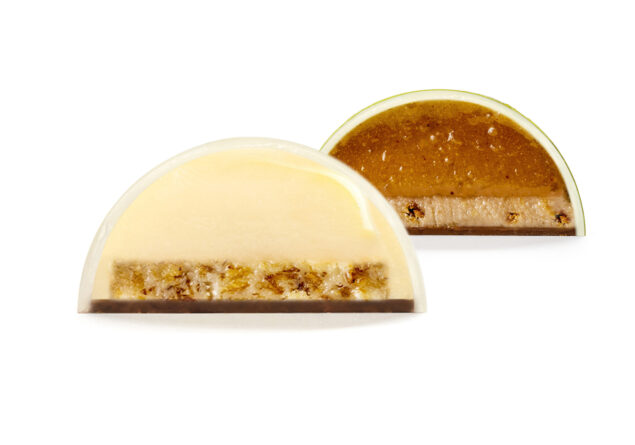 COURSE
Bombones -Coloridos y Brillantes- y Formulación de Rellenos (Spanish ONLY)
Un programa de Chocolatería súper completo y didáctico, dictado 100% Online y en vivo, en donde podrás ver los Chefs trabajar en tiempo real, interactuar, tomar notas y hacer todas preguntas las que tengas -las cuales serán respondidas en el momento- y así poder aclarar todas tus dudas.
El programa consta de 4 sesiones, cada una con una duración aproximada 5 horas.

Los primeros dos días te sumergirás en el mundo de los bombones de molde de la mano de la Chef Melissa Coppel. Serán dos días muy intensos, en donde aprenderás una gran variedad de técnicas de decoración con mantecas de cacao de color utilizando diferentes herramientas como pinceles, esponjas, cinta y por supuesto la pistola rociadora. Y acerca de los rellenos? Se cubrirán todas las familias base: pralinés, gianduja, caramelos, marzipán, compotas y diferentes crujientes. También ganaches con diferentes bases como crema, puré de frutas y aceites.

Y los últimos dos días aprenderás todo acerca de la formulación de ganaches de la mano de Josep María Ribé, un experto en esta materia.

Después de su presentación podrás entender la interacción hay entre los ingredientes dentro de una ganache, el poder edulcorante y propiedades de los azúcares, como hacer intercambios entre coberturas de chocolate y conseguir la misma textura, como obtener la vida útil que queremos y finalmente cómo formular desde cero recetas con sabores e ideas propias.
PROGRAM
Bombones de Molde:
Ganache de Yogurt | Crujiente de Fresa y Maracuyá | Chocolate Blanco Caramelizado
Caremelo de Vainilla | Praliné de Nueces de Pecán | Chocolate Negro
Ganache de Almendra y Banano | Chocolate de Leche
Ganache de Parmesano y Pimienta Negra | Chocolate Blanco Caramelizado
Ganache de Fresa | Praline de Sésamo Negro | Chocolate Blanco y Negro
Dessert Bars:
Compota de Cereza | Ganache de Pistacho y Aceite de Oliva | Crumble de Pistacho | Chocolate de Leche
Ganache de Coco y Lima | Crujiente de Coco y Nuez de Macadamia | Chocolate Blanco
Fechas:
Martes 6 de Octubre
Miércoles 7 de Octubre
Jueves 8 de Octubre
Viernes 9 de Octubre
Horario:
De 8:00 am a 1:00 pm Las Vegas (zona horaria del Pacífico / EE. UU.)
Qué incluye la matrícula?
Un recetario en PDF de todas las recetas.
Una lista de equipos y herramientas, algunos con hipervínculos a los sitios web donde compramos todos nuestros utensilios en USA.
Un diploma digital que certifica que se completó el curso con éxito.
Fotografías digitales de todos los productos elaborados durante la Clase.
Recomendaciones y reglas
Nuestras clases son en vivo, esto significa que podrá interactuar, ver al Chef trabajar en tiempo real y hacer todas las preguntas que tengas, las cuales serán respondidas durante la misma clase.
Nuestras clases son demostrativas, no esperamos que los estudiantes cocinen simultáneamente con nosotros, pensamos que esta es la mejor manera de aprovechar al máximo nuestra experiencia juntos.
Solo estudiantes registrados que usen la misma dirección de correo electrónico que proporcionaron durante el registro podrán unirse al curso.