FULL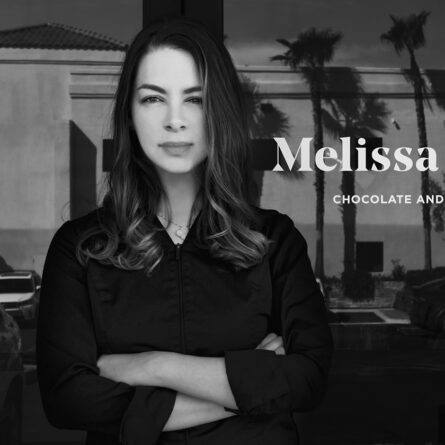 CHEFS
Melissa Coppel
Melissa Coppel's entered the world of Pastry when she left her home country Colombia in her early 20's to enroll at the French Pastry School in Chicago, where she graduated from L' Art de la Patisserie Program. This whetted her appetite for the art of high level pastry. Through sheer determination, Coppel eventually landed in the pastry kitchen of the prestigious L'Atelier de Joël Robuchon in Las Vegas, where she honed her pastry skills. Then she took a position in the chocolate room of Caesars Palace Casino and right after at The Bellagio Casino, where she spent hours working with chocolate. This was the spark that ignited her love affair with chocolate, and launched her very specialized career. Today, she travels the world teaching her art, while she runs the Melissa Coppel Chocolate and Pastry School in Las Vegas.

Melissa Coppel is a Cacao Barry Ambassador. 
She was named "Chocolatier of the Year" in 2013, and one of the "Top Ten Chocolatiers in North America" in 2016.

Follow: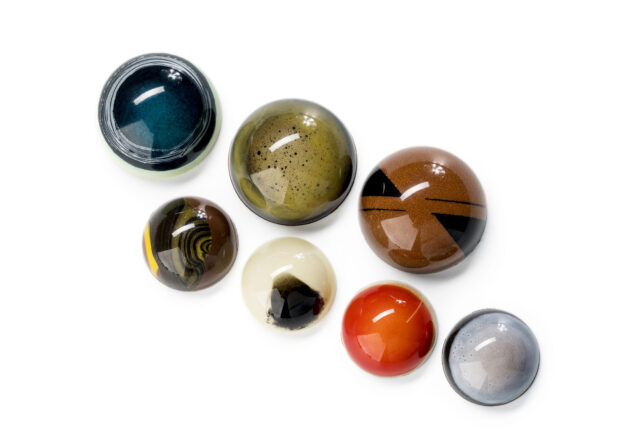 COURSE
On Demand Intensive Chocolate Workshop and Ganache Formulation
The only class where Chef Melissa teaches all her Chocolate art: From her beautiful glossy Molded Bonbons, to her unique " Dessert inspired" Chocolate Bars and for those in love with the Classics: some Enrobed pieces as well.

Her first stop will be teaching you her tricks to ALWAYS get that gloss everyone raves about. Then she will teach you a wide variety of colorful cacao butter decorations using different tools like sponges, brushes, stencils, tape and of course the spray gun, so you can achieve different looks by simply knowing how to adjust the settings.

She will explain as well how according to the opacity / translucency of the colors you are using, you will get very different results.

Next step will be learning how to make the perfect chocolate shells and how the viscosity of the chocolate plays a big role.

And what about fillings? This Class program is design to cover the two main families of fillings: from fat base fillings like praliné, gianduja, duja and crunchy elements. To water base fillings like caramel, compotes, jellies, marshmallow, marzipan and ganaches made with different base liquids like cream, fruit purees and water.

In the Enrobed bonbon section Chef Melissa will teach you how to do a proper chablon -both top and bottom- cut ganaches using a guitar, and how to coat them in Chocolate using an enrobing machine.

This class will finish with the Ganache Formulation theory, so you can start balancing -and fixing- your own ganache recipes to have the texture you are looking and a minimum of 6 weeks shelf life.
PROGRAM
Molded Bonbons
Cacahuète: Salty Peanut Duja | Caramelized Peanuts | Chewy Caramel Cube
La Esmeralda: Banana Caramel | Black Truffle Ganache
Exotic: Mandarin Black Pepper and Alto el Sol 65% Ganache
Lebanon: Tangy Lemon Ganache | Dates and Coffee Crunch
Caracas: Floral Mango and Tonka Bean Ganache
Caramelo: Smoked Salt Caramel Ganache
Peach Sesame: Peach and Vanilla Compote | Sesame Ganache | Zéphyr Caramel
Piemonte: Hazelnut Ganache | Gianduja
Enrobed Bonbons
Yuzu Mandarin: Yuzu Marzipan | Vanilla Citrus Ganache
Hong Kong: Jasmine Tea Ganache | Passion Fruit Pâte de Fruit
Dessert Bars
S'mores: 65% Ganache | Graham
Mount Lychee: Yogurt Ganache | Raspberry Rose Compote | Lychee Crunch
Lime Pie: Sour Cream Marshmallow | Lime Curd Ganache | Maria Cookie Crunch
Apple Pie: Apple Caramel | Pecan Praliné
Schedule:
4 sessions, 5 hours each.
What is included in the tuition fee?
A recipe book in PDF with all the recipes, complete methods and sketches.
A tools and equipment list with hyperlinks to the websites where we bought all our utensils.
Streaming of the class for 7 days, from the day of purchase.
A digital Diploma that certifies you successfully completed the course.
Digital pictures of all the products made during the Class.
Recommendations and rules:
These classes are On-Demand, you will have access to the video content of the class for 7 days from the moment of purchase.
All the Digital files will be available for 1 year.
Our classes are meant to be Demo style, we do not expect students to cook along us, we feel this is the best way to get the most out of our experience together.
Only registered students using the email address they provided during registration will be allowed to join the Class.