FULL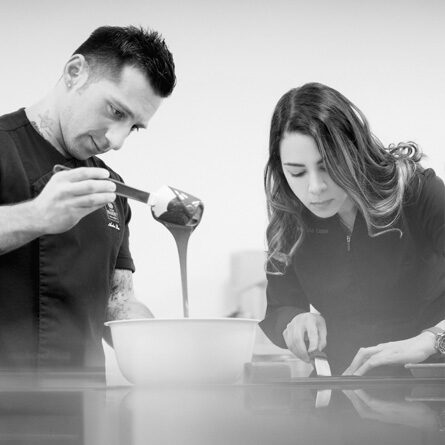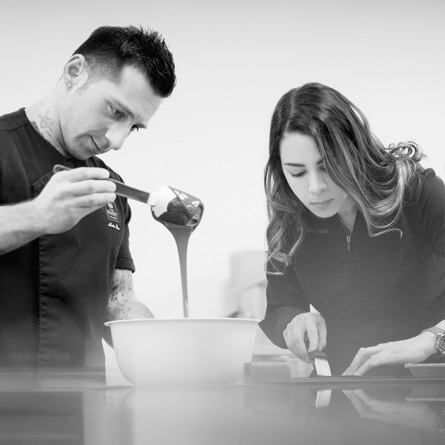 CHEFS
Melissa Coppel
Melissa Coppel entered the world of Pastry when she left her home country Colombia in her early 20's to enroll at the French Pastry School in Chicago, where she graduated from L' Art de la Patisserie Program. This whetted her appetite for the art of high level pastry. Through sheer determination, Coppel eventually landed in the pastry kitchen of the prestigious L'Atelier de Joël Robuchon in Las Vegas, where she honed her pastry skills. Then she took a position in the chocolate room of Caesars Palace Casino and right after at The Bellagio Casino, where she spent hours working with chocolate. This was the spark that ignited her love affair with chocolate, and launched her very specialized career. Today, she travels the world teaching her art, while she runs the Melissa Coppel Chocolate and Pastry School in Las Vegas.

Melissa Coppel is a Cacao Barry Ambassador. 
She was named "Chocolatier of the Year" in 2013, and one of the "Top Ten Chocolatiers in North America" in 2016.
Follow:
Andrés Lara
Andrés Lara had traveled the world working and exploring different cultures; this makes his work approach so fresh and unique.
He is now the Executive Pastry Chef at Melissa Coppel's Chocolate and Pastry School in Las Vegas, but his work experience ranges from incredible places like El Bulli,to Noma, the Cacao Barry Chocolate Academies in Montreal and Tokyo and The Park Hyatt Hotel in Chicago.
Some of his most notable mentors include Albert Adrià, Paco Torreblanca, Ramon Morato, Jacquy Pfeiffer, Sebastien Canonne - just to name a few -
Follow:
Instagram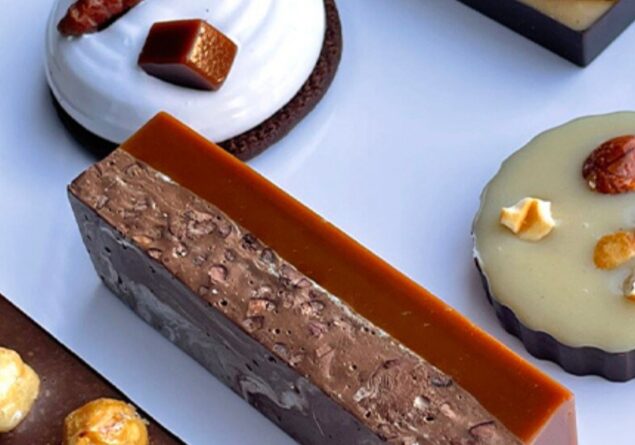 COURSE
Class: American Style Candy Bars
A Class inspired by all those nostalgic American Style Candy Bars we all loved growing up -those we might not eat anymore because they feel overly sweet-. We will give them a twist and turn them into pure indulgence! Chewy, crispy, gooey, what else can you wish for?

Together, let's reimagine Twix, Milky Way, Snickers, Butterfingers and more!

We truly believe this are the kind of products customers are looking for, so we can guarantee you that this American Candy Bars will become the bestsellers of your chocolate shop! And the best of all? They have a great shelf life!

PROGRAM
"Twix" Shortbread Cookie with chewy Caramel, all coated in 68% Dark Chocolate
"Vegan Hazelnut Snickers" Soft Caramel, Hazelnut Ganache, Gianduja and Caramelized Hazelnuts all coated in 68% Dark Chocolate | Vegan and GF
"Peanut Butter Cups" Crunchy Peanut Brittle with a luscious Peanut Butter Ganache, all coated in 41% Milk Chocolate
"Milky Way" Soft Chocolate Nougat and Chewy Caramel all coated in 68% Dark Chocolate
"Butterfinger" Maple Butter, Salty Peanut Butter Duja and Crunchy Honey Comb, all coated in 41% Milk Chocolate
Almond Praliné with Smoky Bacon pieces and Crunchy Pretzels, coated in 68% dark chocolate
Caramelized Pecan Bars, coated in 68% dark chocolate | Vegan and GF
PB & J Rice Crispy Teats: Layers Chewy Rice Crispy, Strawberry Caramel and Peanut Butter Duja, all covered in 68% Dark Chocolate | GF
Marshmallow Cloud: Chocolate Sablé and Vanilla Marshmallow, coated in 68% dark chocolate | GF
What is included in the recipe?
Access to the recipe or class videos for 30 Days -after your first click-
Recipe book of American Style Candy Bars in PDF format including detailed methods, percentages, and the shelf life of each product. 
Tools and equipment list with hyperlinks to the websites where we bought all our utensils. 
Digital photo of the product/products made during class.
Recommendations and rules:
You will have access to the video of American Style Candy Bars for 30 days -after your first click.
Please be aware that after 30 days, the video will no longer be available.
All other digital files will be available for 1 year: recipe book, tools and equipment list and photos.
Our On-Demand Recipe Videos are meant to be Demo style, we do not expect students to cook along with us. We feel this is the best way to get the most out of our experience together.