FULL
CHEFS
Olivier Fernández
A pioneer of the "bean-to-bar" movement, Barcelona-based chef Olivier Fernández has traveled throughout Asia, Africa and Latin America to perfect the art of cocoa production and chocolate making, from the plantations themselves to the numerous kitchens where he's taught.

His extensive experience comes from an exceptional career as a director and teacher at the Confectionery School of the Pastry Guild in Barcelona, the prestigious institution where he completed his studies and where he now seeks to merge his classical pastry training with his Master's degree in Agronomic Engineering and Cocoa Processes.

Fernández's recurring appearances in magazines such as Pasteleria.com and So Good Magazine are clear evidence of the openness of his creativity. From chronicles of his travels, to his Mexican "día de muertos" inspired chocolate pieces, to his bold bright red lip-shaped éclairs, to his phenomenal single-origin bean-to-bar chocolate tablets, Fernández's scope knows no bounds.

Follow: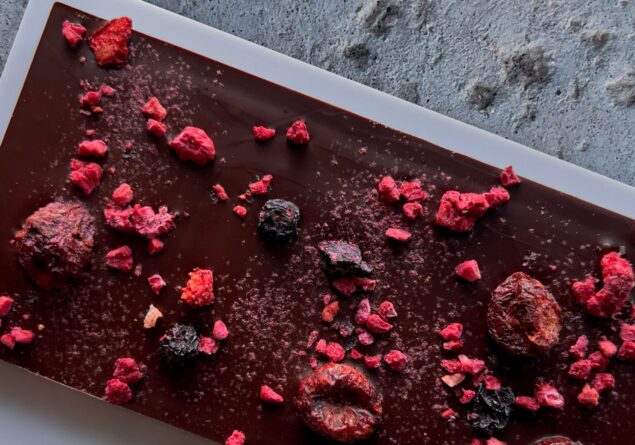 COURSE
Class: Bean to Bar Chocolate Bars by Olivier Fernández
Just when we start to think that there is little we can do to further expand the possibilities of a great chocolate bar, Olivier Fernández comes to the rescue.

Fernández is one of the most knowledgeable bean-to-bar chocolatiers in Spain. His love for field research in cacao farms, his extensive technical knowledge, and his keen sense of flavor translate into perfectly-executed bars that respect the many nuances of cacao.

In this On-demand class, you will learn 3 recipes, starting with a (not-so) basic milk chocolate bar made with a slightly acidic cacao and a touch of salt: a great reminder that details can set great things in motion. This recipe opens the door to a crunchy coffee bar that enhances the milkiness of this much-loved type of chocolate. In addition to these two recipes, Fernández will show you his step-by-step method for making a unique 70% berry cacao chocolate, refined directly with strawberry, blueberry, and raspberry powder.

From the importance of following a specific order of ingredients during refining and conching, to the details of aging and pre-crystallization, this is a knowledge-packed course for anyone who wants to keep gifting us with the pleasure of a great chocolate bar!
PROGRAM
Salted Milk Chocolate Bar
Crunchy Salted Milk Chocolate Bar with Coffee
70% Berry Chocolate Bar
What is included in the class?

Access to the recipe or class videos for 30 Days -after your first click-
Recipe book in PDF format including detailed methods, percentages, and the shelf life of each product. 
Tools and equipment list with hyperlinks to the websites where we bought all our utensils. 
Digital photo of the product/products made during class.
Tested recipes and formulations.
Recommendations and rules:
You will have access to the video for 30 days -after your first click.
Please be aware that after 30 days, the video will no longer be available.
All other digital files will be available for 1 year: recipe book, tools and equipment list and photos.
Our On-Demand Recipe Videos are meant to be Demo style, we do not expect students to cook along with us. We feel this is the best way to get the most out of our experience together.