FULL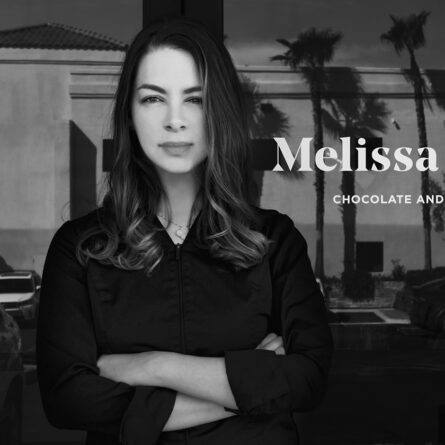 CHEFS
Melissa Coppel
Melissa Coppel entered the world of Pastry when she left her home country Colombia in her early 20's to enroll at the French Pastry School in Chicago, where she graduated from L' Art de la Patisserie Program. This whetted her appetite for the art of high level pastry. Through sheer determination, Coppel eventually landed in the pastry kitchen of the prestigious L'Atelier de Joël Robuchon in Las Vegas, where she honed her pastry skills. Then she took a position in the chocolate room of Caesars Palace Casino and right after at The Bellagio Casino, where she spent hours working with chocolate. This was the spark that ignited her love affair with chocolate, and launched her very specialized career. Today, she travels the world teaching her art, while she runs the Melissa Coppel Chocolate and Pastry School in Las Vegas.

Melissa Coppel is a Cacao Barry Ambassador. 
She was named "Chocolatier of the Year" in 2013, and one of the "Top Ten Chocolatiers in North America" in 2016.
Follow: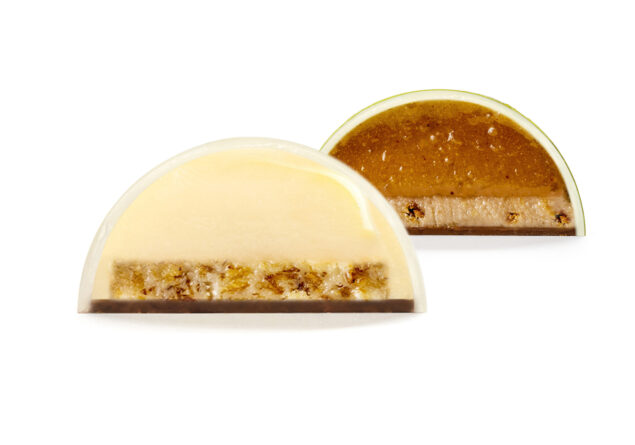 COURSE
Clase: Bombones Coloridos & Brillantes
¿Sueñas con aprender a hacer bombones coloridos y brillantes? Esta es tu oportunidad de sumergirte en el mundo de los bombones de molde de la mano de la Chef Melissa Coppel.

Tres días muy intensos, en los que aprenderás cómo hacer tus propias pinturas utilizando colorantes liposolubles en polvo, además de una gran variedad de técnicas de decoración utilizando pinceles, esponjas, cinta y por supuesto la pistola rociadora.

En cuanto a rellenos, aprenderás una gran variedad, tanto grasos como lo son los pralinés, la gianduja, la duja y los crujientes; como a base de agua como lo son los caramelos, el mazapán, las compotas y ganaches hechas con crema, puré de frutas, infusiones y agua.

Chef Melissa compartirá de principio a fin todas sus técnicas y secretos de cómo lograr bombones preciosos cada vez! Después expondrá diseños coloridos e innovadores, coquillas de chocolate perfectas, rellenos exquisitos -y con una vida útil de al menos 6 semanas- las diferentes técnicas para cerrar correctamente los moldes con y sin hojas transfer, y finalizará la clase hablando del estocaje, ya sea para producción masiva, para tiendas retail, o para enviar por correo.

Es importante resaltar, que nuestra escuela se compromete siempre con todos los estudiantes a contestar cualquier duda que pueda surgir después de cada curso dictado, sin importar cuánto tiempo después se hagan las preguntas.
PROGRAM
Bombones de Molde:
Ganache de Mantequilla Avellanada y Zephyr 35% | Crujiente de Cereal de Canela
Ganache Vegana de Nuez de Pecan | Praliné de Nuez Pecan
Ganache de Lima, Coco y Chocolate Blanco | Crujiente de Macadamia y Coco Tostado
Praliné de Galleta Maria y Café
Ganache de Mango y Cardamomo
Compota de Guava | Ganache de Yogurt
Ganache de Café y Chocolate de Leche
Caramelo de Banana | Duja Crujiente de Mantequilla de Cacahuate
Ganache de Fresas con Crema
Ganache de Pasión y Matcha | Mazapán de Pistacho
What is included in the tuition fee?
A recipe book in PDF with all the recipes, complete methods and sketches.
A tools and equipment list with hyperlinks to the websites where we bought all our utensils.
Access to the video Class in HD for 15 days.
A digital Diploma that certifies you successfully completed the course.
Digital pictures of all the products made during the Class.
Recommendations and rules:
Our On Demand Classes are recordings, this means you will watch the Chef work in real time and stop or re-start the recording anytime.
Our classes are meant to be Demo style, we do not expect students to cook along us, we feel this is the best way to get the most out of our experience together.
Only registered students using the email address they provided during registration will be allowed to access to all Class material and certificate.