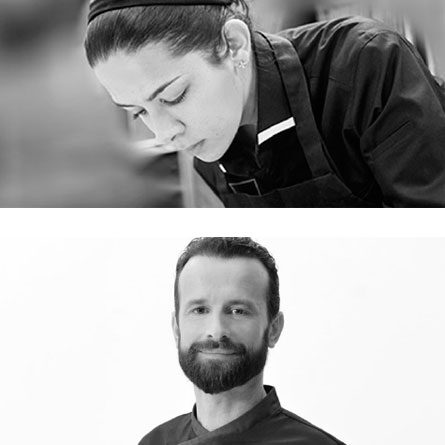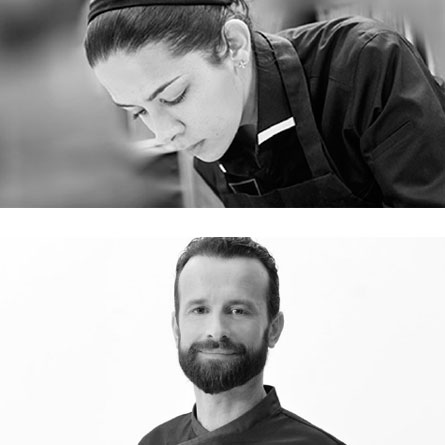 CHEFS
Alexandre Bourdeaux
Alexandre Bourdeaux spend most of his time consulting and teaching around the world.
He is the Owner of "Pastry & Chocoadvise" a Consulting Company devoted.
He developed one of the most well known softwares for ganache formulation called Ganache Solution. And he is also a Cacao Barry Ambassador for Belgium.
Follow:
Melissa Coppel
Melissa Coppel's enter the world of pastry when she left her home country Colombia in her early 20's to enroll at the French Pastry School in Chicago, where she graduated from L' Art de la Patisserie Program. This whetted her appetite for the art of high level pastry. Through sheer determination, Coppel eventually landed in the pastry kitchen of the prestigious L'Atelier de Joël Robuchon in Las vegas, where she honed her pastry skills and soaked up knowledge like a thirsty sponge. She took continuing education classes in any free time she had. Then she took a position in the chocolate room of Caesar's Palace Casino, where she spent hours working with chocolate. This was the spark that ignited her love affair with chocolate, and launched her very specialized career. Today, she runs the Melissa Coppel Chocolate and Pastry school in Las Vegas.

Melissa Coppel is a Cacao Barry Ambassador. 
She was named "Chocolatier of the Year" in 2013, and one of the "Top Ten Chocolatiers in North America" in 2016.
Follow:
Instagram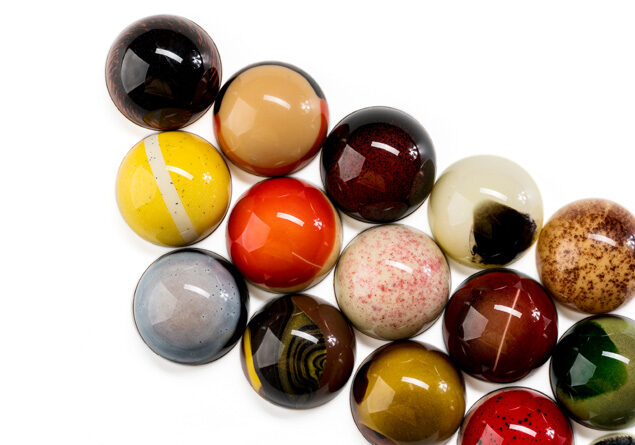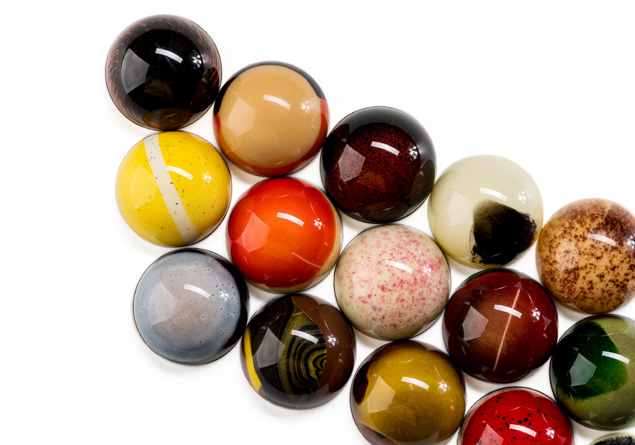 COURSE
Glossy Bonbons and Ganache Formulation
You will spend the first two days with chef Alexander Bourdeaux, learning everything about ganache formulation. Chef Bourdeaux will start his Course explaining everything about the main families of ingredients: Sugars, fats, fruits, alcohols, additives, flavorings, and Chocolates. He will explain how they are sourced and what their properties are. He will then discuss topics like the importance of water in ganache recipes, and why it is important to keep sugars in solution. What does AW mean and how to extend it? Why fats are considered texturizing agents, and how this will affect the final texture of your ganache recipes. Why you should consider adding polyols -like sorbitol- to extend the shelf life of your fillings. The % in which we should stay when adding alcohols to our fillings, how to properly freeze our products, etc.

Day two will have a more practical approach, since students will be able for to formulate alongside him many recipes from zero, and being able to put in practice everything learned on day one. He will be teaching, as well, how to use his ganache software called: Ganache Solution.

Then you will spend the last two days with Chef Melissa: She will start the class explaining her step by step to always achieve beautiful glossy bonbons. She will share her expertise about color combinations, and will teach you how to make your cacao butter colors from scratch. Then she will talk about pigmentation percentages. You will learn -and practice- a variety of unique and colorful decorations using sponges, stencils, brushes, tape, and of course, many designs just using the spray gun.

After painting, she will teach you how to make the perfect chocolate shells. Then you will move on to making a variety of fillings like praliné, caramels, compotes, and ganaches with different base liquids like cream, water and fruit purées. The Class will finish showing you how to close the bonbons -with and without guitar sheets-, how to pack them and freeze them for ideal storage.

By the end of the course, you will learn how to formulate outstanding ganaches recipes, and then bring them to life with beautifully designed chocolate shells.
PROGRAM
Cassis Ganache | Parmesan Crumble
Brown Butter Ganache | Cinnamon Cereal Crunch
Oreo Praliné
S'mores: Vanilla Marshmallow | Graham Cracker Ganache
Lychee and Makrut Lime Ganache
Vegan Coconut Caramel | Vegan Vanilla Ganache
Lemon Yogurt Olive Oil Ganache | Salty Pretzel Crunch    
Lime Caramel Ganache
Matcha Passion Ganache | Pistachio Marzipan
Schedule:
Wednesday to Saturday : 9:00 am to 5:00 pm
Las Vegas (pacific time zone / USA)
Doors will open at 8:40 am for Breakfast
Class will start daily at 9:00 am and will finish at around 5:00 pm.
What is included in the tuition fee?
Homemade breakfast, coffee break and lunch
Recipe book
Melissa Coppel Chef Apron
Free Wifi
Diploma
Rules
Please wear proper uniform: Long pants, chefs jacket, non slippery shoes.
Please be on time.
No video recording, phone calls or texting is allowed during Class. 
Class Size
Hands-on courses range from 12-16 students.
Guest Chefs Classes will have a maximum of 20 students.
All classes are for adults 18+ only.
⟶ Practical Info