FULL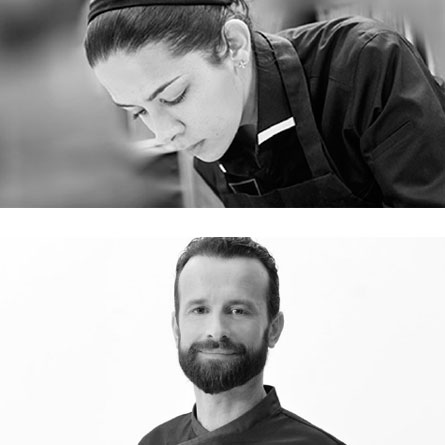 CHEFS
Alexandre Bourdeaux
Alexandre Bourdeaux spend most of his time consulting and teaching around the world.
He is the Owner of "Pastry & Chocoadvise" a Consulting Company devoted.
He developed one of the most well known softwares for ganache formulation called Ganache Solution. And he is also a Cacao Barry Ambassador for Belgium.
Follow:
Melissa Coppel
Melissa Coppel's enter the world of pastry when she left her home country Colombia in her early 20's to enroll at the French Pastry School in Chicago, where she graduated from L' Art de la Patisserie Program. This whetted her appetite for the art of high level pastry. Through sheer determination, Coppel eventually landed in the pastry kitchen of the prestigious L'Atelier de Joël Robuchon in Las vegas, where she honed her pastry skills and soaked up knowledge like a thirsty sponge. She took continuing education classes in any free time she had. Then she took a position in the chocolate room of Caesar's Palace Casino, where she spent hours working with chocolate. This was the spark that ignited her love affair with chocolate, and launched her very specialized career. Today, she runs the Melissa Coppel Chocolate and Pastry school in Las Vegas.

Melissa Coppel is a Cacao Barry Ambassador. 
She was named "Chocolatier of the Year" in 2013, and one of the "Top Ten Chocolatiers in North America" in 2016.
Follow:
Instagram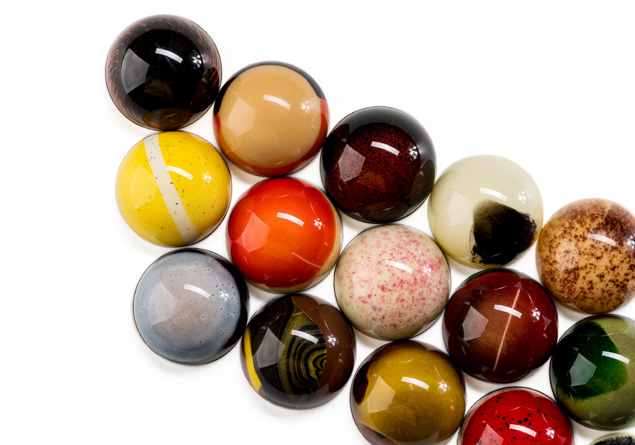 COURSE
Glossy Bonbons and Ganache Formulation
You will spend the first two days with chef Alexander Bourdeaux learning everything about the science behind ganache formulation -using his own software: Ganache Solution- and how to balance your ganache recipes from scratch according to the taste, texture and shelf life you desire. In groups you will create from zero a few ganache recipe formulas to then test, taste, discuss and fully understand how to balance the perfect recipes.

Then you will spend the last two days of class with chef Melissa, where she will share all her techniques on how to produce beautiful shiny bonbons with different spraying techniques and decorations using sponges, stencils, brushes and tape.
Then students will move on to the process of molding, filling and closing with and without guitar sheets. The bonbons will be filled with a variety of products like praliné, gianduja, marzipan, soft caramels, compotes, different crunchy elements and ganaches with different base liquids like cream, fruit purees and oil.

By the end of the course, you will know how to formulate amazing ganaches recipes and then bring them to life with beautifully designed shells.
⟶ Practical Info