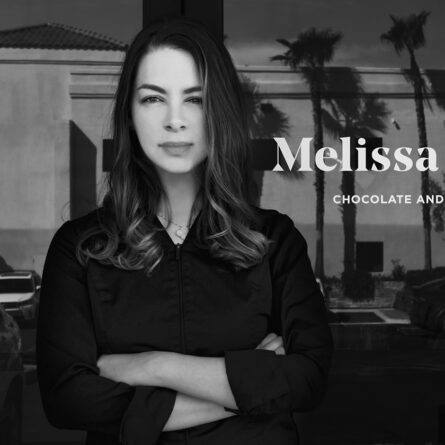 CHEFS
Melissa Coppel
Melissa Coppel's enter the world of pastry when she left her home country Colombia in her early 20's to enroll at the French Pastry School in Chicago, where she graduated from L' Art de la Patisserie Program. This whetted her appetite for the art of high level pastry. Through sheer determination, Coppel eventually landed in the pastry kitchen of the prestigious L'Atelier de Joël Robuchon in Las vegas, where she honed her pastry skills and soaked up knowledge like a thirsty sponge. She took continuing education classes in any free time she had. Then she took a position in the chocolate room of Caesar's Palace Casino, where she spent hours working with chocolate. This was the spark that ignited her love affair with chocolate, and launched her very specialized career. Today, she runs the Melissa Coppel Chocolate and Pastry school in Las Vegas.

Melissa Coppel is a Cacao Barry Ambassador. 
She was named "Chocolatier of the Year" in 2013, and one of the "Top Ten Chocolatiers in North America" in 2016.
Follow: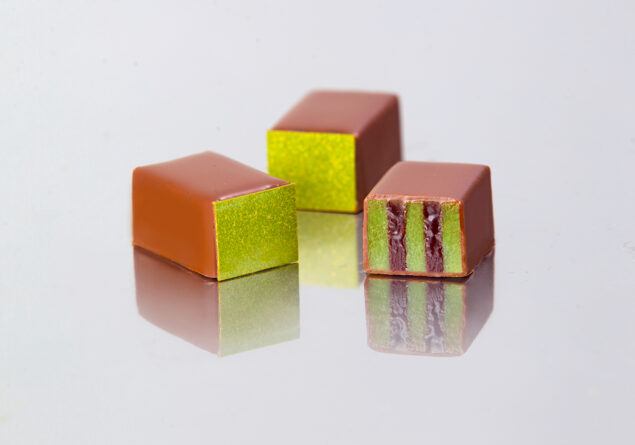 COURSE
Enrobed Bonbons, Bars and Chocolate Snacks
This program is designed for all of those who understood that the best way to make our Bonbon business profitable is making Enrobed products, including Bars, Snacks and Bonbons.

A Online Class that will cover every step of the process: How to balance the ganache recipes to be able to cut them with a guitar, how to properly do a chablon, then the technique on how to perfectly cut them with a guitar, and finish by coating them using an enrobing machine and finish decorating them directly on the belt.

Some of the products that will be made will be: Es'Nickers Bar, Rice Krispy and Caramel Bars, Gianduja Bites, Lemon Marzipan and Earl Grey Bonbons, Hazelnut Praliné and Sea Salt Bonbons, Sablé and Marshmallow Cookies, and many more.
PROGRAM
Almond Praliné with Smoky Bacon pieces and Crunchy Pretzels, coated in 68% dark chocolate
Salty Pistachio Ganache and tangy Raspberry Marzipan Bonbon, enrobed in 68% dark chocolate
Crunchy Coffee Gianduja cubes enrobed in 47% milk chocolate
Chewy Caramel and Mendiant Bars, enrobed in 68% dark chocolate
Pecan Bars, coated in 68% dark chocolate
Es'Nickers Bar: Caramelized Peanuts | Salty Peanut butter and Chewy Caramel, all enrobed in 68% dark chocolate
Rice Krispy and Caramel Bars, enrobed in Milk 47% milk chocolate
Tête-de-Nègre | Sablé and Vanilla Marshmallow, coated in 68% dark chocolate
Schedule:
8:00 am to 1:00 pm Las Vegas (pacific time zone / USA)
What is included in the tuition fee?
A PDF book with all the recipes.
A digital Diploma that certifies you successfully completed the course.
Rules
Only registered students using the email address they provided during registration will be allow to join the Class, so we encourage students not to share their passwords.